Exact Synergy Tip: De werkstroom van je collega bijhouden
Wanneer je collega vakantie heeft of ziek is, is het wenselijk om zijn of haar werkstroom bij te houden. Op deze manier kan tijdig actie worden ondernomen op de verzoeken die in zijn of haar werkstroom staan. Dit kun je doen door de werkstroom van de betreffende collega te openen via bijvoorbeeld de medewerkerskaart, maar je kunt dit ook doen via jouw startpagina. Op deze wijze zie je iedere keer wanneer je jouw startpagina opent, de werkstroom van jouw collega.
Om de werkstroom van jouw collega op jouw startpagina te tonen dien je dit eenmalig in te stellen. Dit kun je als volgt doen:
Open de werkstroom van jouw collega.
Dit kun je doen door op de medewerkerskaart van die collega op 'Werkstroom' te klikken in de monitor.
Vervolgens klik je rechtsboven in de werkstroom op RSS.
In het venster dat wordt geopend selecteer je de optie 'Basis', en kopieert de regel die in het veld 'De feed URL' staat.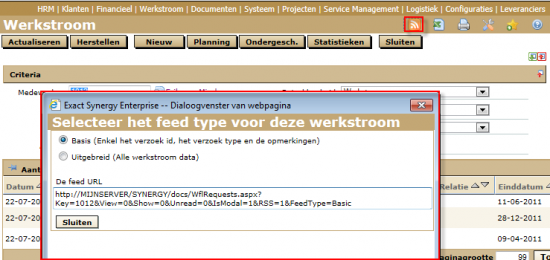 Ga naar jouw startpagina.
Klik op Aanpassen rechtsboven in het scherm.
Klik op 'Widget toevoegen'.
Ga naar het tabblad 'Nieuws'.
Selecteer 'RSS nieuws' en klik op 'Bewaren'. Op jouw startpagina is nu een lege widget toegevoegd.
Klik op 'Bewerken'.

Plak nu bij 'RSS nieuws' de url die je in stap 3 hebt gekopieerd.
Bij paginagrootte kun je aangeven hoeveel verzoeken uit de werkstroom je wilt tonen. Wanneer je tevens de datum en tijd van die verzoeken wilt zien kun je dat aangeven bij 'Datum + Tijd'. Eventueel kun je bij 'Titel nog een naam opgeven'.
Klik op 'Bewaren'.
Wanneer je nu jouw startpagina opent zie je de werkstroom van jouw collega. Je kunt uiteraard alleen de verzoeken zien waarvoor je rechten hebt.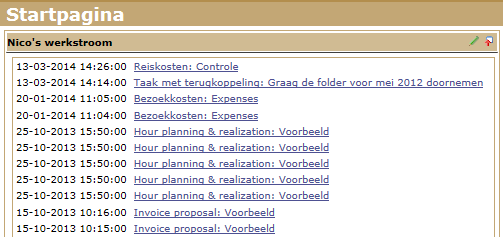 Iedere keer wanneer een verzoek in de werkstroom van jouw collega wordt toegevoegd of wordt gewijzigd komt dat verzoek boven aan deze lijst te staan met daarbij de betreffende datum en tijd.
Gerelateerde blogs
Bron: Exact Support Blog
Your reaction is welcome!