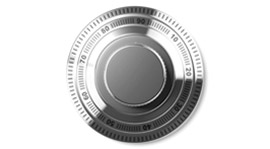 Are you going to wait until it is too late?
Data loss, whether due to a fire, theft or malfunctioning hardware, can be a costly affair. Without a recent backup, you will not only have to redo lots of work, but may also irretrievably lose important information. This dramatically affects your operations, a negative outcome that needs to be prevented at all costs.
Online backup
Anyone who has ever been through a company-wide computer crash knows the importance of having a recent backup available. The online backup offered by QUBE has numerous additional benefits compared to tape or disk. For instance, it significantly speeds up the backup process, eliminates the need to purchase expensive hardware, and ensures you only pay for what you use.
Smart moves
No investment in hardware, usage determines costs
Complete data protection without the drawbacks of tape and disk
A backup takes minutes instead of hours
Quick, easy, efficient data recovery
Storage infinitely scalable, both locally and externally
Do not wait to make a backup until you actually need one. Eliminate risks: that is the smarter way to work. Our consultants will be happy to tell you about the benefits of the QUBE online backup for your organisation.
Contact them: call +31 (0) 20 655 75 75 or
email
.
---
Who went before you
---
Our partners

Do you want to know more? Fill in the contact form below.