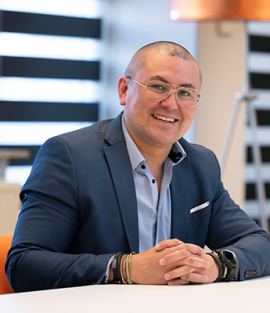 Introducing: new colleague Raoul
This month sales colleague Raoul Leunura started at QUBE. Time to get to know him better.
Hi Raoul. Welcome! Tell us something about yourself…
Hi everyone, my name is Raoul. I'm 41 years old and married to Anne-Marie and dad of 3, Skyler 10, Landon 5 and River 0.8 years.
Besides my family I like to do fitness. I also like to watch a nice serie or movie, play some Airsoft and I like to get into my sloop to sail around.
How did you get into IT?
Actually, I have been actively involved in IT since my childhood. Atari/Commodore and later the 286/386/486 PCs. During that time I also helped many friends and family with all IT / AV related matters. Now I have actually made it my job.
Why did you choose QUBE?
The first conversations with Roland, Albert and Michael were interesting and challenging. I especially like the dynamics and diversity of the work. By that I mean the combination of Sales, Technology and Support.
QUBE completely supports its customers. Today IT is more than just a computer or laptop. IT can make your entire organization work more efficiently, leaving more time to innovate. I convey that message to customers with great enthusiasm.
Your position is Sales Consultant, what does that mean exactly?
As a Sales Consultant I'm a spider in the web for our customers. By listening carefully and asking questions, I and my colleagues look for the "specific" desired solution for them. And of course they can rely on me at all times when it comes to questions and service.
What makes you happy outside of work?
I'm a real family man. Everything I can do with them makes me very happy. Making beautiful memories for later. Recently I spoiled myself with a beautiful sloop and I want to spend many hours on it with my loved ones.
Your reaction is welcome!