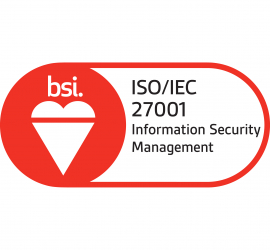 QUBE ICT Solutions obtains ISO / IEC 27001 certificate for information security
Press release: In addition to ISO 9001 quality certification, QUBE ICT Solutions now also obtains ISO / IEC 27001 certification for information security
Hoofddorp, July 25 - QUBE ICT Solutions has obtained the ISO / IEC 27001: 2013 certificate from the independent audit firm BSI. This certification demonstrates that QUBE ICT Solutions has set up and controls its information security processes according to the recognized international standard.
"We like to distinguish ourselves with our services. Availability and confidentiality of information play a crucial role in that. For an organization as QUBE having our information security in order is therefore very important. Thanks to this certification, we can reassure our customers that their data is safe with us ", says Albert Kooijman, General Manager of QUBE.
"We are proud to have received this ISO / IEC 27001: 2013 certification, but it is more than just a certificate. For us it is a continuous process that guarantees our customers that information security and quality improvement have high priority within QUBE."
"Within QUBE we deal with information in different ways. For example, we monitor, manage and maintain different IT systems and IT networks of our customers. For us, the safety of customer data is therefore paramount," Kooijman says. We take the information security responsibility very seriously. With this certification, we now demonstrate that. "
The ISO-27001 certification is a supplement to the already certified quality management system ISO 9001: 2015 that QUBE already has. QUBE has opted for the most extensive scope and to certify both the primary and supporting processes. The ISO-27001 certification applies to all products and services that QUBE provides.
QUBE ICT Solutions

QUBE ICT Solutions B.V. has been helping its customers work smarter for 29 years by using ICT in an innovative way. For all the IT-support you are at the right place at QUBE. Currently 32 professionals work at QUBE, distributed over the locations in Hoofddorp and Rijswijk (ZH).
QUBE works for business service providers, hotels, conference centers, education and training organizations, project organizations and shared service centers, among others.
For more information about QUBE ICT Solutions please contact: Albert Kooijman, Managing Director, via +31 (0) 653 280 461 or e-mail albert.kooijman@qube.nl.
Your reaction is welcome!