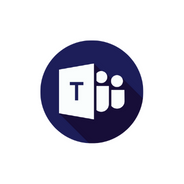 Teams Tip: 3 new handy features in a Teams meeting
Last month, a few new interesting features have become available in Microsoft Teams.

In this article we briefly discuss the 3 most useful new features that can be used in a meeting.
Quickly unmute during a meeting with your spacebar
If you have muted your microphone in a meeting and you want to respond quickly to something that is being said, it often takes some time to switch on your microphone. That's why a change has been made in Teams that allows you to quickly and briefly unmute.
You can quickly respond during a meeting by holding down Ctrl+Spacebar as long as you speak. When you release these keys, your microphone is immediately muted again.
This option is on by default. Do you want to turn this off? Go to Settings > Privacy and disable "Shortcut key to unmute" here.
Turn off screen mirroring
With the new "Flip my video" function you can turn off mirroring of your image.
You will no longer see the text in your video reversed. As a result, during a meeting you see the same as the others in the meeting.
You can disable the option "Mirror my video" in the device settings in the meeting. In the meeting, go to More actions > Device settings > Mirror my video.
Web users can now use custom wallpaper
Since the last release it is also possible for web users to blur or adjust their background during the meeting.
This was already available in the desktop version, but now also in the web version.
More information
Do you have any questions about using Teams or would you like more information?
Our Microsoft experts are happy to help. Leave your details in the form below and we will contact you.
Your reaction is welcome!