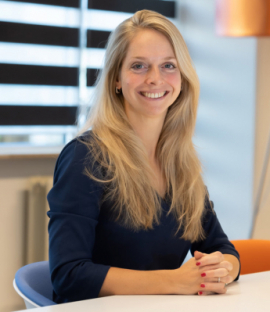 Departure Sharon van der Aa
Sharon, you are about to leave QUBE. Can you tell us a bit more about that?
During the past 5 years I have enjoyed working with the unique and energetic QUBE team. I have mixed feelings about my decision. During this period, we have achieved nice goals together, including two successful take-overs and two ISO certifications: 9001 and 27001.
When running marathons, I keep on going when it gets tough. That's exactly the attitude team QUBE has. Colleagues don't stop until the finish line. They are not put off by complexity. That's what makes the organization distinctive. This gives employees the right vibe and the confidence that we can achieve the set goals together. The team spirit is very strong and I value that very much.
A new adventure awaits me and my family. We are going to completely renovate a beautiful home and make it more sustainable. We leave the Randstad and choose for a quieter and green living environment in Amersfoort. A challenging opportunity to take a step in my career came my way and completed the picture of how I envision this my new foundation.
What will be your new job?
From April 1st, I will start at Deltek as a Senior Technical Cloud Delivery Manager.
What was your best experience in the last 5 years?
The diversity of activities made my time at QUBE so special. I enjoy working with multiple teams and taking on different challenges.
The way in which we implemented the two ISO certifications ourselves has given me tremendous satisfaction. I find it is typical of QUBE how the team has successfully mastered the standard. This ensures that we work with a quality and safety management system according to the ISO standard and the possibility for the organization to improve itself continuously.
Is there something else you would like to share?
With great confidence I hand over my activities to Marco Kastrop, Remko Hartlief and Michael Wouters.
Marco Kastrop joint our team as Teamlead Software Solutions since March 1st and also provides our customers with advice as a business consultant. Remko will assume the role of Teamlead Infra Solutions and Michael will be responsible for ISO management.
We are currently taking all the time necessary for a thorough transfer. I am convinced that this new development offers QUBE the space to grow and develop further.
I would very much like to thank all QUBE customers and partners for the very pleasant cooperation. I wish everyone good luck in the future.
Your reaction is welcome!