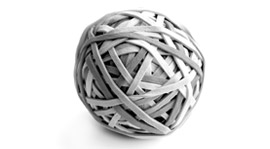 Always online everywhere you go?
Home, travelling, at the client's workplace: knowledge workers are always online everywhere they go, certainly not just during office hours when they are at their own desk. That places specific demands on the network, which should be able to communicate with all possible devices and protocols at any given time. But at the same time the network must also be able to guarantee the security of company-sensitive information, while remaining quick and very reliable.
Network management
Managing computer networks is a speciality. From file and application servers, internet, telephony, cabling, routers, switches, security and backups to the cloud: we ensure everything runs smoothly. Up-to-date, fast, reliable and secure. With a proper network, everything runs so smoothly that you hardly even notice it is there. That is why we are only satisfied when you no longer notice how well we are doing our job.
Smart moves
Protected against unauthorised users, viruses and so on
A network which almost imperceptibly supports communication
Exceptional reliability and availability
Fast handling of hardware and software issues
A network that scales to the organisation
Would you like to know more?
We provide a network that optimally supports employees in their activities. Our consultants will be happy to show you the options for your organisation. Call +31 (0) 20 655 75 75 or
email
for a personal interview.
---
Who went before you
---
Our partners

Do you want to know more? Fill in the contact form below.