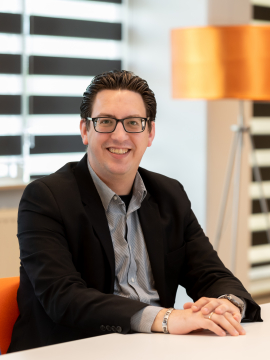 Introducing: our new colleague Mark Hubers
Since May we have welcomed a new colleague at QUBE: Mark Hubers. Time to get to know him better.
Hello Mark. Welcome! Tell something about yourself…
Thank you. I am Mark Hubers, married to Kimberly Hubers. I mention her last name on purpose because I took her last name when we got married. And this turns out to be quite special. Recently we have moved from Rotterdam to a village near Rotterdam called Berkel en Rodenrijs. We enjoy living here while waiting for the arrival of a little one. Personally, I like to learn new things and keep up with the trends in ICT in general.
Have you been working in IT for a long time?
I have worked in IT professionally since 2007. However, my father was one of the first programmers of the ABN-AMRO bank. Therefore the interest in IT was already given to me at birth. When I was a little boy, I was already busy with the Commodore64 and the subsequent Amiga that caught my attention. Since then I have used various systems and have programmed a bit here and there, building IT networks up to this day. And every day I enjoy it more. It also gets more interesting because simply there are new possibilities every day.
Why did you choose QUBE?
I chose QUBE because your website really appealed to me. The video of the colleagues, their stories made it easier to apply for a job. It also appears that QUBE offers multiple solutions and total packages to its customers, of which I am a big supporter. Really caring for the customers. ICT should work just like light. You press a button and the light switches on. If you ask me that is how it should be in the IT world. You press a button and the device does what you expect it to do. I would love to contribute to that and that is why I chose QUBE.
Your position is Support Consultant, what exactly does that entail?
This means that I am the 1st contact point for customers who need technical support. In addition, I answer tickets that come in with various questions. Together with my colleagues I manage the networks of our customers/partners.

My job is therefore to ensure that our customers are happy. Despite the fact that the system is sometimes not able to cooperate for a while, we provide clear feedback that actually benefits the customer. And in the end we will all solve it (customers/partners/QUBE) together.
What do you like outside of work?
Outside working hours, I love to do Escape Rooms. The concept is simple but very nice. You are locked in a themed room. This is linked to a story that is brought to life in different ways and you have to escape through a variety of puzzles. This is generally within 60 minutes. And I can tell from experience that you really need that time. I have done over 150 rooms. And it remains fun and surprising. It makes me happy when I get puzzles solved and thus manage to escape. And in daily life (both professionally and privately) I like to solve things, so QUBE is for me the right place to provide our customers with good solutions.
Your reaction is welcome!